Our Customer Service Reps Jamie and Eloise are ready to assist you.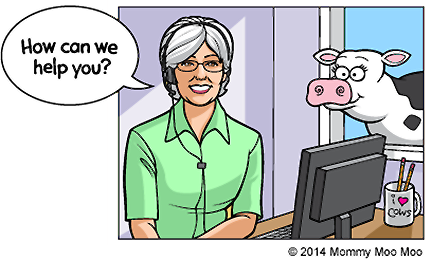 Email
retailsales@mommymoomoo.com
Call Toll Free
1 (844) HOL-ICOW or
1 (844) 465-4269
Snail Mail
Mommy Moo Moo
301 Concourse Blvd., Suite 130
Glen Allen, VA 23059
United States
Map of Mommy Moo Moo Retailers
Retailer's Discount?
40% OFF.
$9.99 retail/$5.99 wholesale
Is the Retail Price Printed on the Book?
Yes, the retail price is printed with the ISBN-13 on the back exterior cover on the bottom right hand corner of the book.
Book ISBNs?
Loblolly, Loblolly, You're So Tall
ISBN: 978-0-9831584-0-0
Vegetable Chatter
ISBN: 978-0-9831584-3-1
Book Dimensions?
Loblolly, Loblolly, You're So Tall
7.5" (l), 4.5" (w), .75" (h), 10.4oz. (wt), 16 (pp)
Vegetable Chatter
6" (l), 7.2" (w), .5" (h), .45 oz. (wt), 8 (pp)
Minimum or Maximum Order?
Nope. Nada. You can order 1 to 1000+ books.
Free Shipping?
Yes, shipping is free for retailers only.
Where Do You Ship To?
We ship to every state in the United States.
Is International Shipping Available?
Yes, we ship to locations outside of the United States. Additional fees apply.
Shipping Methods?
Our system defaults to the most cost effective shipping method using FedEx, UPS, USPS, etc.
Do You Track Shipments?
Our system provides you with tracking data for every shipment and purchase.
Payment Methods?
We accept VISA, MC, AMEX, DISCOVER, PayPal, and checks.
How Do I Pay?
Our system emails invoices through QuickBooks Online.
Guarantee?
We provide an unconditional guarantee – if you are unhappy with our books at any time for any reason, send them back to us, and we'll refund the purchase price or replace the items.
Types of Retailers?
indie bookstores
children's boutiques
specialty gift shops
tourist gift shops
hotel destination gift shops
gardens
historic properties
national parks
research and educational properties
museums
art museums
science museums
wildlife refuges
state parks
Additional Questions?