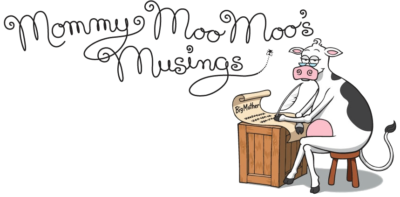 Moo's Reviews: Minions (2015) (10.12.15)
Mommy Moo Moo's Reviews are movies that she has seen and experienced that she feels compelled to comment on. These reviews are written based on age appropriate educational and entertainment media for children aged 0-12. Mommy Moo Moo will bestow flies (since they tend to hover around cows) as a rating system – 1 fly means that the movie was very poor and 5 flies means that the movie is soaring!
Moo's Review: Minions (2015)


Who is the audience for this film? The kids and I love the yellow minions. They're funny, adorable, silly, and vulnerable. The characters are terrific, but this story is awful. The first half of the movie was about the evolution of the minions throughout history serving a variety of evil leaders. And the sweet, lovable minions felt fulfilled serving these evil characters. Wow. There's a good moral to teach our children.
Although there are many scenes that are funny and entertaining, the overall message of this movie is evil, violence, and revenge. The second half of the movie is just like every other movie being made today—non-stop chase scenes followed by blowing up scenes: blowing up characters, blowing up vehicles, blowing up buildings, etc. What value is there in blowing things up? And once you've seen 20+ items blown up in a row – what's the message?
The most disturbing difference in this movie, however, is the scene where the minions are taken to a torture chamber. Do we really have to introduce young, innocent children to torture chambers? Is this the new "normal?"
I love Sandra Bullock as an actress. In this movie Sandra plays the main villainess Scarlet Overkill. I know that Sandra needs to make a living and that if she didn't take this role, someone else would, however as a mother, I was disappointed that a mother of a young male (her adopted son Louis Bardo Bullock was 5 years old when this movie came out) would make a movie like this promoting non-stop violence for an audience of such young children.
Our family left the movie theatre feeling love for the minions and incredibly disappointed and offended with the minion's story.