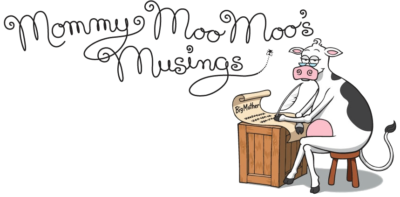 It Takes a Village to Publish a Book (1.3.18)
During the hustle and bustle of the holiday season, I sent this email to the people in my Village thanking them for helping me get to this point in self-publishing.
December 18, 2017
Hi Everyone –
I am writing to thank all of you for helping me get Mommy Moo Moo to where we are today. Although Nathan [my husband] is not a big reader and does not fully appreciate art, he supports me mentally, emotionally, and spiritually, and together we have been the biggest (and only) financial donors throughout the creation of this new business venture. Our amazing daughters have been my inspiration, my primary cheerleaders, my confidants, and my board of directors. My parents have supported me throughout my entire life and would do anything to help me succeed. My brother Doug is the silent type, at times, and we don't have to speak to one another to know that we have each other's backs.
Tripp has been incredibly supportive as a friend and a graphic artist throughout this roller coaster ride for the past 9 years. Quite frankly, I'm surprised that Tripp still speaks to me whenever I utter the word "loblolly." Dave Hill from Scotland is and was the perfect first illustrator to work with to create the first beautiful board book that I published called Loblolly, Loblolly, You're So Tall. Tom Edwards worked with me diligently to create the brand name images, the illustrations for the websites, the Mommy Moo Moo characters that I love and want to play with, and the hysterical vegetable characters in my second book called Vegetable Chatter.
Brent and Isabelle have listened to me moaning and groaning about various details throughout this entire challenging journey. Teresa and Dr. M have supported me as they worked their magic on my hair and my wellness care. And JP, Carrie, and Laurel have been consistent cheerleaders for me out in the social media stratosphere that frustrates me, because I choose to meander through life at a much slower pace.
Thank you all for your love, your support, your patience, your prayers, your talents and gifts, your listening skills, your problem solving skills, your suggestions, and your help. I could not and would not be where I am today without each and every one of you and your support.
Mommy Moo Moo is now moving to the next phase of business. I want to welcome Tammy, Amy, Jenica, and Janie (their names have a nice ring to them together, don't they?) to the Herd to assist in raising this business to the next level. We have 12,500 Loblollyboard books sitting in a warehouse to sell. Who cares if we learned recently that 10% of the books are defective and we now have to inspect 12,500 board books for quality control? We'll persevere! We have new challenges to tackle as we learn the independent publishing business and how to provide a product (a book) on the national level in addition to providing a service (installing roofs) on a local level.
Again, thank you from the bottom of my heart for helping me co-create Mommy Moo Moo Board Books. May the Force be with us!
Sincerely,
Debbie
aka Mommy Moo Moo
"We live what we create. We create what we live." ~ Mommy Moo Moo